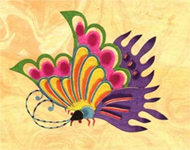 "Just when the catepillar
thought the world was over,
it became a butterfly."
Anonymous
National Center for Missing Children
Also See
1 Kind Thing Memorials
Turn your photos in real US postage with
PhotoStamps.
Theyíre perfect for every occasion!

Special Offer from Stamps.com
Get Free postage
Free digital scale and a
FREE supplies kit (an $80 value!)

1 Kind Thing Poetry
Close Page to Return to Home Page...
When The World Was Only As Big As My Neighborhood 3/18/2004
Life was so very sweet when I was small.
And my world was as only as large as my neighborhood.
And if I knew anything, I thought I knew it all.
Sure there was darkness and my poor ma got beat;
But still I had some awesome freedoms,
And I got to run far and wide,
when my little feet hit the street!
I can see the sun and hear the birds,
and still see those little orange butterflys;
And I remember when our beaches were wide and clean.
Back then I was such a tomboy,
I usually just ran with the guys.
I didnít regret anything that happened to me,
I had nothing to compare my life with -
And I just thought what was, was what had to be.
Sure there were rough spots
and I grew up pretty tough.
I sure remember some sweet moments in time,
And back then - it was probably enough.
I didnít really feel like I had done without,
Till I started to travel this ole world,
And finally got to check some things out.
And you know, I would if I could -
Go back to the days of ignorant bliss-
Iíd love to go back to when the world
was only as big as my own neighborhood!

Copyright (c) 2004 J D COSS . All rights reserved.

"There was a child went forth every day, and the first object he looked upon and recieved with wonder or pity or love or dread, that object he became... And that object became part of him for the day... or for many years or stretching cycles of years." Walt Whitman




Create Your Own Memorial For Your Car!
Check out WedDecals, bumper stickers and more!

Want your own web site, and No Monthly Fees? Visit



Easy to use Control Panel, shopping carts and more....

Brought to you by Janice Deborah Coss, AKA Debe Coss

Email Address: 1kindthing@emailaccount.com