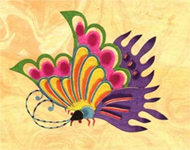 "Just when the catepillar
thought the world was over,
it became a butterfly."
Anonymous
National Center for Missing Children
Also See
1 Kind Thing Memorials
Turn your photos in real US postage with
PhotoStamps.
They're perfect for every occasion!

Special Offer from Stamps.com
Get Free postage
Free digital scale and a
FREE supplies kit (an $80 value!)

1 Kind Thing Poetry
Close Page to Return to Home Page...
The Russian Ballerina
4/20/2004

I wore white and nurses shoes, and I did what ever I had to do.
Fed the sick, and bathed them too,
I loved my job, and I did it well,
But you can never tell,
What it is that will haunt you still.
There was a patient once, no one really liked,
Refusing everything with "no's," so spiked!
Hurting the feelings of others, so trite.
So, they gave the Russian ballerina to me one night.
They told me to do my best, "It's only right."
But be prepared, she resists, her last one hard fight.
I went into her room and said, "I was told,
A woman, once a wonderful ballerina, is now sentenced to this bed.
And I'm quite sorry, but I need to get you fed…"
I talked to her of things in common, and how I could wage,
That she must have seemed like royalty upon the stage,
Because she was beautiful to me, even now, at this age.
I told her about my own aunt who danced around the world,
And how I loved to dance too, since I was a little girl;
It used thrilled me to jump, leap, and bow and twirl.
She gazed into my eyes as I murmured these things to her,
Then despite the warnings, I asked like I was sure,
Her opinion mattered to me, "Coffee - plain black or with sugar?"
She told me she'd rather have tea and lemon if she could,
I smiled and I told her I could do that for her, and I would!
It was clear like a flash of light, in that instant I could see,
What I had done, was given her, some respect and dignity,
What she gave me in return were words and some recognition of me.
So you see, don't diminish others simply because of someone's opinion,
It might be you someday, somewhere, in some bed, skin-so-thin.
And you would want some kindness, and someone on who you could depend.


Copyright (c) 2004 J D COSS . All rights reserved.

"There was a child went forth every day, and the first object he looked upon and recieved with wonder or pity or love or dread, that object he became... And that object became part of him for the day... or for many years or stretching cycles of years." Walt Whitman




Create Your Own Memorial For Your Car!
Check out WedDecals, bumper stickers and more!