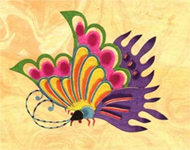 "Just when the catepillar
thought the world was over,
it became a butterfly."
Anonymous
National Center for Missing Children
Also See
1 Kind Thing Memorials
Turn your photos in real US postage with
PhotoStamps.
They're perfect for every occasion!

Special Offer from Stamps.com
Get Free postage
Free digital scale and a
FREE supplies kit (an $80 value!)

1 Kind Thing Poetry
Close Page to Return to Home Page...
The Child Within
4/20/2004
Some new therapies talk about the child within
And I got to tell you,
My inner child runs my place, with her impish grin,
I live alone and we get to play, and stay up late too,
The only thing she will not do,
Is give her heart away.
My inner child loves great jokes,
And loves her friends with her all,
But no one is allowed too close,
Lest they might have plans to make her fall.
When I am work, I have to pretend she's not there,
Lest we play a prank, just to show we care.
Then she has go and take a nap within
Till I get off of work and we get to play again.
My best friends know her well,
No regrets, as best as I can tell.
They see her in my eyes,
And they see her when we all regress
Back to the same old rules we used for recess.
I'm glad I got to know her, she's my best friend.
And I tell her I'm sorry for some things that have happened.
But no matter how hard I try to explain, some hurts are not forgotten.
And she tells me, her love is not easily bought, or nuthin'
So sometimes others are not welcomed in
And I stay home alone and play with my inner child,
Cuz she is my best friend.

Copyright (c) 2004 J D COSS . All rights reserved.

"There was a child went forth every day, and the first object he looked upon and recieved with wonder or pity or love or dread, that object he became... And that object became part of him for the day... or for many years or stretching cycles of years." Walt Whitman




Create Your Own Memorial For Your Car!
Check out WedDecals, bumper stickers and more!