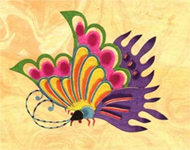 "Just when the catepillar
thought the world was over,
it became a butterfly."
Anonymous
National Center for Missing Children
Also See
1 Kind Thing Memorials
Turn your photos in real US postage with
PhotoStamps.
They're perfect for every occasion!

Special Offer from Stamps.com
Get Free postage
Free digital scale and a
FREE supplies kit (an $80 value!)

1 Kind Thing Poetry
Close Page to Return to Home Page...
She Was More Cranky Than Usual
She was more cranky than usual,
As she rummaged through the dumpster.
"Damn people, don't throw out nuthin' good no more!"
But still she rummaged…
And there, in the dumpster,
In some old and once ritzy, uptown, and now defunct, store's sack,
Was an old doll, the type girls played with in the late 50's…
And suddenly she smiled.
She had a flood of memories,
of a cozy little girls' room,
and friends, and laughter,
and playing with little dolls…
She could see the pink curtains, blowing in the breeze.
She could hear the childish chatter of her long lost friends.
And she could remember how safe and secure she felt,
Back then, in her little girls' room, in her parents home.
But, times do change and for some of us, not for the good.
And she suddenly felt a tear in her eye,
Because she realized that she wanted more than anything,
To be back in those sunny days, in her little room,
All done in pink and white with enough toys to keep her busy for days.
But the house was gone, torn down years ago.
Her parents were both dead and buried long ago,
And she was alone in this world – everything gone so wrong for her,
so long ago.
And she muttered to herself,
"Well, whadda ya know…
Sometimes, folks still throws' stuff away that means something."
And she slipped the old tattered and worn out doll into her pocket.
And she moved onto the next dumpster,
Still thinking of pink curtains gently blowing in the breeze…


Copyright (c) 2004 J D COSS . All rights reserved.

"There was a child went forth every day, and the first object he looked upon and recieved with wonder or pity or love or dread, that object he became... And that object became part of him for the day... or for many years or stretching cycles of years." Walt Whitman




Create Your Own Memorial For Your Car!
Check out WedDecals, bumper stickers and more!