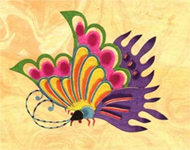 "Just when the catepillar
thought the world was over,
it became a butterfly."
Anonymous
National Center for Missing Children
Also See
1 Kind Thing Memorials
Turn your photos in real US postage with
PhotoStamps.
Theyíre perfect for every occasion!

Special Offer from Stamps.com
Get Free postage
Free digital scale and a
FREE supplies kit (an $80 value!)

1 Kind Thing Poetry
Close Page to Return to Home Page...
ďNo Invasion Into My HeadĒ
4/1/2004
Wake up and crawl out of my warm bed.
Eyes donít want to open,
Brain donít want no invasion into my head.
You used to laugh at me, you found it so funny,
When I just felt my way around my house -
And you would say, ďCome on, just open your eyes honey!Ē
The smell of coffee necessary to start my day,
Turn on the TV, sip my brew,
And try to get connected in my own way.
Being close to you was almost as warm and good,
As staying in my cozy bed,
And being next to you felt good, just the way it should.
But that was long ago and those days are long gone.
You know that now I wake up all alone.
Itís not the same. Sometimes I wonder how I hang on.
But I make it just fine, through every single day,
I get past the aches I know so well -
And think about how you never meant to stay.
Itís okay, and like I said, Iíll always love you.
I have the memories to hold onto -
And I learned a lot about survival because of you.
So, I wake up every day, and crawl out of my warm bed.
My eyes still donít want to open,
Cuz my brain donít want no invasion into my headÖ

Copyright (c) 2004 J D COSS . All rights reserved.

"There was a child went forth every day, and the first object he looked upon and recieved with wonder or pity or love or dread, that object he became... And that object became part of him for the day... or for many years or stretching cycles of years." Walt Whitman




Create Your Own Memorial For Your Car!
Check out WedDecals, bumper stickers and more!