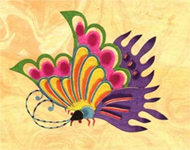 "Just when the catepillar
thought the world was over,
it became a butterfly."
Anonymous
National Center for Missing Children
Also See
1 Kind Thing Memorials
Turn your photos in real US postage with
PhotoStamps.
They're perfect for every occasion!

Special Offer from Stamps.com
Get Free postage
Free digital scale and a
FREE supplies kit (an $80 value!)

1 Kind Thing Poetry
Close Page to Return to Home Page...
My Worst Enemy
4/8/2004
I come out after dark to get into my car.
I had to park further away this time.
The moon is new, and the night is very dark.
The breeze makes things twitch and move,
Just beyond my sight and all around me.
The hairs on my arm stand up on their ends.
I have my keys between my fingers, like little knife points
Just like they taught me in women's self defense class.
My feet crunch on small pieces of gravel,
And dry leaves make their own rustling sounds.
I take such shallow breaths, simply because of the tension.
The air is crisp and so are all the edges of things around me,
What light there is reflects and glints at odd angels,
Making me take second glances, when I just want to stare ahead.
Damn this long walk!
What was that moving in the bushes??
A large black cat runs across my path making me stop short!

I gasp as quietly as I am able and suck in my breath sharply,
To keep from squealing, in utter surprise.
Damn cat!
I look around and it is totally deserted, no one around for miles.
I pull my collar up around my neck, not because of the breeze –
It's not cold, but still the hairs on my body are up on ends.
Finally I get to my car, and I wrestle with my keys in the dark.
Work damn you!
Work!
And they drop to the ground!
Flustered, I grab them,
point them and work them into the slot,
Turn them and I am inside,
slamming the door tight,
and finally,
finally,
Taking a full breath,
I lock the door and slip the keys into the ignition effortlessly.
The engine turns over, the radio comes on, the gas tank is full,
And I am safe in the little cozy womb of my automobile.
And my worst enemy that night,
moves back into the darkness,
Back into the darkness, of my own private thoughts!
I was terrified by my own thoughts, my own mind, my own fears.
I was scared of me!


Copyright (c) 2004 J D COSS . All rights reserved.

"There was a child went forth every day, and the first object he looked upon and recieved with wonder or pity or love or dread, that object he became... And that object became part of him for the day... or for many years or stretching cycles of years." Walt Whitman




Create Your Own Memorial For Your Car!
Check out WedDecals, bumper stickers and more!