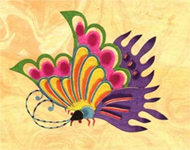 "Just when the catepillar
thought the world was over,
it became a butterfly."
Anonymous
National Center for Missing Children
Also See
1 Kind Thing Memorials
Turn your photos in real US postage with
PhotoStamps.
They're perfect for every occasion!

Special Offer from Stamps.com
Get Free postage
Free digital scale and a
FREE supplies kit (an $80 value!)

1 Kind Thing Poetry
Close Page to Return to Home Page...
I Remember…
5/4/2004
I remember when I thought pink lemonade,
Was very special -
And I believed meteors,
had magic powers,
I remember when I had to learn,
The alphabet, one by one.
And I remember when my worries,
Were really very small.
Today, if I could make my troubles,
Quite that small,
This would be a wonderful world for me,
After all.
But there are wolves in sheeps clothing,
Who covet your very soul,
And think nothing of trashing
What little magic is left in your life.
And there are still knights in shining armour,
If only they can be found!
And there are windmills,
Still full of magic and danger,
And hopes and dreams,
Enough for us all.
But if could, I surely would,
Make all my troubles quite small,
Back before my very spirit would take the fall.
Was I ever really that innocent,
Or is that what my heart chooses to recall?
If only the secrets of life were really held,
In a simple crystal ball!
I could really live free and have it all!
Copyright (c) 2004 J D COSS . All rights reserved.

"There was a child went forth every day, and the first object he looked upon and recieved with wonder or pity or love or dread, that object he became... And that object became part of him for the day... or for many years or stretching cycles of years." Walt Whitman




Create Your Own Memorial For Your Car!
Check out WedDecals, bumper stickers and more!