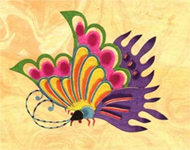 "Just when the catepillar
thought the world was over,
it became a butterfly."
Anonymous
National Center for Missing Children
Also See
1 Kind Thing Memorials
Turn your photos in real US postage with
PhotoStamps.
They're perfect for every occasion!

Special Offer from Stamps.com
Get Free postage
Free digital scale and a
FREE supplies kit (an $80 value!)

1 Kind Thing Poetry
Close Page to Return to Home Page...
God's Speed!
4/14/2004
I sit in my car in the morning,
In front of my house, coffee cup in hand,
I sit in silence, looking straight ahead…
At the end of my street,
Where, there is a freeway overpass.
I cannot hear the traffic, here in my car.
But I can watch the cars pulsing,
Back and forth the images race.
North bound and southern bound –
Sometimes they whiz by,
Sometimes they slowly crawl.
This is at the edge of my street,
At the edge of our neighborhood
And the very edge of our city,
Before you encounter the sea.
And I wonder where they are going,
And where they have been,
And I remember when I was young,
I think of me, going everywhere, running free.
Then I put my car in gear, and slowly pull away.
On my way, on schedule, and in my groove.
And I look one more time, at the freeway overpass,
Before I proceed on my way down my own street.
And I offer a prayer for my fellow travelers,
Travel easy, travel free, and God's speed!


Copyright (c) 2004 J D COSS . All rights reserved.

"There was a child went forth every day, and the first object he looked upon and recieved with wonder or pity or love or dread, that object he became... And that object became part of him for the day... or for many years or stretching cycles of years." Walt Whitman




Create Your Own Memorial For Your Car!
Check out WedDecals, bumper stickers and more!