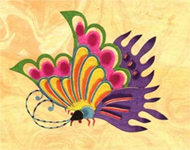 "Just when the catepillar
thought the world was over,
it became a butterfly."
Anonymous
National Center for Missing Children
Also See
1 Kind Thing Memorials
Turn your photos in real US postage with
PhotoStamps.
They're perfect for every occasion!

Special Offer from Stamps.com
Get Free postage
Free digital scale and a
FREE supplies kit (an $80 value!)

1 Kind Thing Poetry
Close Page to Return to Home Page...
Foggy Ocean Day
Tuesday, July 20, 2004
She leaned against the wall in front of the house,
And watched as wave after wave, crashed onto the shore,
And the seafoam, swirled and fizzeled and glimmered.
The smell of the ocean was thick on this foggy day,
And that just intensified the salty taste,
Of the olive rolling around in her mouth.
She liked to savor the taste of green olives,
And it would take her about 5 minutes just to eat one.
She watched some of the regular locals taking their walks.
Same people, same time, same days, the same things.
But that was part of this small town life.
Dependability, stability, and regularity.
She watched the surf fisher-man ready his pole,
And was intrigued by the thought,
That he would catch fish so close to shore,
In the same surf where she played and swam.
The sun was going down behind the wall of fog,
And the air took on a sudden chill.
She watched him cast his line out,
Reel it in; cast it out, and reel it in again.
Then she smelled the faint odor of mint and tobacco.
She turned and smiled as her grandfather joined her,
His snuff can in hand, leaning next to her on the wall, without a word;
Where they both watched the surf-fisher cast his line out,
Reel it in; cast it out, and reel it in again,
Till the sun went down…


Copyright (c) 2004 J D COSS . All rights reserved.

"There was a child went forth every day, and the first object he looked upon and recieved with wonder or pity or love or dread, that object he became... And that object became part of him for the day... or for many years or stretching cycles of years." Walt Whitman




Create Your Own Memorial For Your Car!
Check out WedDecals, bumper stickers and more!