Memorial to
PETER CAMILE SUREAU
Originally Posted On "RRVM.Com, Roman Rockin Viritual Memorials," which deserves it's own memorial!


Be not forgetful to entertain strangers-for thereby, some have entertained angels unawares. Heb. 13:2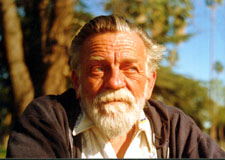 Due to family circumstances, my father was not present the first two years of my life. We got to know each other for a very short while in 1954, during my 2nd year. During that brief time, I had contact with some of the paternal side of my family. I'm glad they had that small part of my youth to hold me in their hearts.
We were separated again until 1969, when Dad met me as a seventeen year-old runaway who searched out her father. I re-met my paternal grandmother, Laura Sureau, spoke to my aunt Amy Sureau Ricahci and later to my favorite uncle I met in my 2nd year, uncle, Ramon Reachi. Those moments are part of the treasure I hold in my heart and share with my Dad, even now.
Through family and my father, I learned a little history of my french roots in Louisiana and a family rich in talents. With marriages to other talented families, our family has shone with many stars across the world. My father was but one part of a family that continues on in the arts.
My father was under contract to Hal Roche Studios as a child. It was a hard time to be a childhood actor and did nothing to prepare those kids for life, long before child-labor laws. It was a short-lived career. "Talkies" became popular and my father was dropped due to his voice.
The hardness of never making it beyond that point and other disappointments, robbed a talented and full ship of the wind from its sails. My father had a hard life full of scrapes with the law and justice system, mental health services and others. He had a high I.Q. and was one of those bright people who was never found out and nurtured towards success. And, he never figured success out for himself. He was full of ideas and hard to nail down to others' expectations.
As hard a man as he was to get along with and despite the sadness of his life, I came to know him as my Dad. He said I was his sole issue.
I have been told that in addition to childhood acting, my father was a talented photographer that drove for hours for just the right shot. He is said to have even owned his own photography shop. He tinkered with many things including printing and graphics.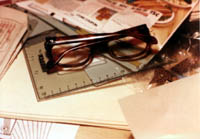 I know I definitely got his energetic streak that makes comets out of certain people. We both were born without brakes, so to speak, full of energy and no low speeds to go through life with. I probably got his sense of humor about life too.

He heard a lot from me through my own difficult wanderings into maturity. Given my roots and raising, my dad cut me a lot of slack. But he was always proud of me. He was never judgmental of me. He'd yell at me, he'd snipe just like anybody else's parents. But I never heard him say I didn't do something right. He never closed his door to me. He always believed in me. He always had time to listen to me or to my side of things. He was my friend.

He only had a few tales of me as a child but they were some of my favorites. I'm glad he had at least those to tell me as a young woman. His mother, my abuella, also told me one of my favorite, "When you were little..." stories. It was the clarity and the caring of those story tellings that made it so special. I felt the homecoming of rejoining with blood. I'm grateful for that.

One Fathers Day, during my young-adult years, I sent my father a tie. Half-jokingly, I wrote to him that it was to make up for all the ties he did not get from me while I was growing up. I also wrote, I was lucky and found one that had the blue of our eyes in it. I sent along a tie tack.

Early 90's, Dad became unable to handle life in the smoggy city where he lived and moved him to my own town so I could ease his load.

His doctor later said, if I had told the Dr. I would have that last year with my Dad, he would have told me not to expect more than a couple of months. My higher power, instead, gave me an entire year to spend with Dad. It was a good year for him. It was a good year for me. I'm thankful I could give it to him.

After Dad died, the Fathers Day tie I sent him, was in the few things he had managed to keep a hold of during his nomadic existence. I had to sort through his stuff alone and there was the blue of our eyes, in my hand. I still have the first tie I ever gave Dad for Father's Day. Thank you for that and what ever precious little more we gave and took from each other. Thanks for getting to be my friend. Thanks for the last year we had. Thanks for opening the door when I called.

It was short and sweet but I'll know you, when I see you again Daddy!

He was preceded in death by his sister, Amy Sureau (aka Renita Reachi); mother, Laura Sureau; brother-in-law, Ramon Reachi; and is survived by family and friends both known and unfortunately unknown to this writer and daughter,
submitted by J. Deborah Coss nee Rotolone.


Copyright (c) 2004 J D COSS . All rights reserved.